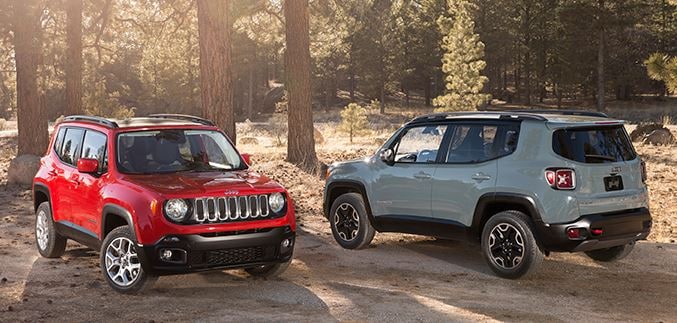 With the brand-new 2015 Jeep Renegade, the classic brand is entering into the subcompact/crossover market for the first time with its smallest vehicle currently on the market. With Jeep styling that calls to mind a miniature version of the Jeep Wrangler, this new option is perfect for drivers who want a new, unique choice in the crossover market with a rugged look and feel that can withstand all conditions. Read on to learn more about the 2015 Jeep Renegade.

First and foremost, the 2015 Jeep Renegade is built for adventure as the only car in its class with complete 4x4 off-roading capabilities in two available power trains, which makes it perfect whether you're hitting the trails, the beach, or the back roads. The Renegade comfortably seats five with plenty of room for all your gear and lots of cool add-on storage that makes it easy to be active on the go. The Renegade comes standard with a six-speed manual transmission, but a nine-speed automatic is also available.

If you love the open look of a traditional Jeep vehicle, the Renegade won't disappoint with its available MySky feature. This open air version of the car's roof can either be retracted or completely removed and stored for maximum sunlight exposure. While the grates and exterior styling are classic Jeep, military inspired X details on lamps, lights, and other locations give the 2015 Jeep Renegade a fresh feel.

Beyond appealing to the outdoorsy crowd, the Renegade is also packed full of technology that will satisfy even the most discerning gadget buff. The UConnect feature includes an access and navigation panel along with safety monitoring features, all of which comes on a 6.5 inch screen that can integrate with your smartphone. The interior styling, inspired by the intersection of rugged and technical details, is known as TekTonik and is truly unique among cars in this class.

Though this car is in pre-production and has not yet officially been safety tested, it includes seven standard airbags and a high steel ratio, so like other Jeep entrants, it's expected to score high marks for both driver and passenger safety. While pricing for the 2015 Jeep Renegade has not yet been announced, similar vehicles such as the Nissan Juke and Kia Soul come in around $20,000. Visit AutoNation Chrysler Dodge Jeep Ram North Phoenix to learn more about when the brand-new 2015 Jeep Renegade will be available on their lot for a test drive.